The kangaroo species and those roos that are used for export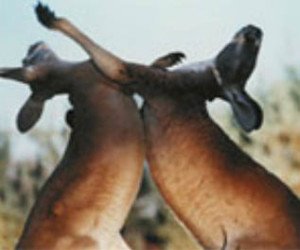 For many people encountering the use of kangaroo meat for human or dog consumption, the initial question is often about the sustainability and the humane methods used.
Perhaps before that it is instructive for people to know what part of the kangaroo species is used.
The following information (in quotes) is provided by the government website www.dfat.gov.au/
Summary of the kangaroo species
"There are over 60 different species of kangaroo and their close relatives, with all kangaroos belonging to the super family Macropodoidea (or macropods, meaning 'great-footed'). The super family is divided into the Macropodidae and the Potoroidae families.
The Macropodidae (macropod) family includes kangaroos, wallabies, wallaroos, pademelons, tree-kangaroos and forest wallabies. Species in the macropod family vary greatly in size and weight, ranging from 0.5 kilograms to 90 kilograms. The Potoroinae (potoroid) family of kangaroos includes the potoroo, bettong and rat-kangaroo, which live only in Australia.
Kangaroos of different types live in all areas of Australia, from cold-climate areas and desert plains, to tropical rainforests and beaches. Kangaroos are herbivorous, eating a range of plants and, in some cases, fungi. Most are nocturnal but some are active in the early morning and late afternoon.
Different kangaroo species live in a variety of habitats. Potoroids, for example, make nests while tree-kangaroos live above ground in trees. Larger species of kangaroo tend to shelter under trees or in caves and rock clefts."
"Kangaroos continue to be used as a resource, but only under strict government controls. All Australian states and territories have legislation to protect kangaroos. Only the four most abundant species of kangaroo and small numbers of two common wallaby species can be commercially harvested for export, and then only by licensed hunters in accordance with an approved management plan. These species are the
Red kangaroo,  (Macropus rufus: QLD, NSW, VIC, SA, NT, WA)
Eastern grey kangaroo, (Macropus giganteus giganteus: QLD, NSW, ACT, VIC)
Western grey kangaroo, (Macropus fuliginosus melanops   QLD, NSW, VIC, SA, WA)
Common Wallaroo (Euro), This is one of the 4 wallearoo types. (Macropus robustus erubescens: QLD, NSW, SA, NT, WA)
Bennetts wallaby: also known as one of the two 'red-necked wallaby species (Macropus rufogriseus rufogriseus TAS)
Pademelon (wallaby). There are five sub species, unknown which ones are culled.
Note there are eleven sub species of kangaroo of which only FOUR are harvested for export as shown above.
Bennetts wallaby is the only wallaby out of ten sub species that is culled. Note 'Wallabies' are a different classification than 'rock wallabies'
There are twenty sub species of 'rock wallaby', none of these are culled.
+
Evolutionary tree of the Kangaroo and tree kangaroos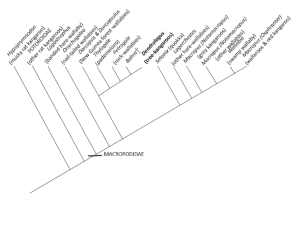 The diagram shows the evolutionary relationships of the Macropoidea (kangaroos and potoroids). Modified from Meredith et al. (2009); position of the extinct taxon Bohra from Prideaux & Warburton (2010). Ref 3
DISCUSSION
Initially I thought it was strange that Australians (myself included) were killing their national emblem. Then as you will read in other articles on this site, I realised the population control that the Government and their science authorities were putting into place, that can actually prevent the kangaroos from starving (when overpopulation occurs).
If you are vegetarian or vegan, you are unlikely to find any culling program justifiable. And you may be tempted not to feed your dog meat, however as they are 95% carnivore this would be a major health risk. If you are an omnivore (general human population) you will eat many forms of animal and plant. Different cultures prefer eating different animals species.
Americans eat buffalo
Japanese eat whales
Parts of China and India still eat dogs
Some Indian religions revere the cow
Jewish and Muslim religions do not eat pork.
So when we talk about protecting one non endangered species over another, often we have to respect other people's cultures.
The kangaroo and macropods in general are an amazing species. If Europeans or any other races besides the aboriginals had never colonized Australia, there is a strong chance that the kangaroo population would be a lot lower and aboriginals would live in moderately peaceful co existence with this breed. Because of European settlement, kangaroo numbers are actually much higher than they normally would be. Besides this leading to population control programs, it has accidentally ensured that many of the kangaroo species have a very good gene pool to continue their species.
CONCLUSIONS
Of the kangaroo species, there are eleven sub species of which only Four are culled. The reasons that any culling is authorized are provided in the article on kangaroo and the environment.
You should be aware that culling of kangaroos in Australia is a yearly program and would continue regardless of whether any meat was eaten or exported, so using it for dog consumption has nothing to do with the culling. In fact much of what is used for dogs is not suitable for human consumption (bones, offal, off cuts etc) so these parts would actually be wasted if they were not consumed by other species such as dogs.
Suffice to say, if you are a dog lover, and you want the best for your dog. You are actually helping the Australian environment, and your dog, by using kangaroo meat products such as kangaroo dog treats.
Reference
Ref 1 http://www.dfat.gov.au/facts/kangaroos.html Ref 1
Ref 2 Scientific names – http://www.rootourism.com/fact.htm
Ref 3 http://www.palaeontologyonline.com/articles/2013/the-evolution-of-tree-kangaroos/